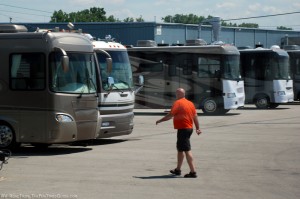 Moon River RV Park is currently under site development for the area of Highway 240 and Stevens Drive in North Richland by long time development Milo Bauder and home builder Brad Butherus.  There will be approximately 218 pads on the 14 acres with the first phase of 105 pads ready for use by the Memorial Day holiday.
Facilities located in the park will include onsite laundry, a pool, recreation hall, onsite bath houses and RV storage and each pad will have a privacy fence on the sides and at the back. Self-contained RV's that are 10 years old or newer will only be allowed in the park.
Finding rentals in the Tri Cities has been strained recently and the developers believe that the park will fill quickly with Hanford workers/employees and also hope the park will become a destination park as well.