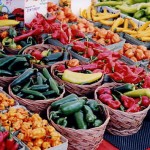 Oh how we LOVE this time of year here in the beautiful Tri-Cities! The Farmer's Markets are open and the opportunity for all of us to enjoy the scrumptious fruits, veggies and other homemade goodies is just too exciting to pass up! 
The farmers markets are a wonderful to shop because the produce is local and it's been freshly picked, which is in contrast to most we find in the grocery stores that have been picked up to a week previously in California, Mexico or even Asia. The nutricious produce is also a boon to local farmers and vendors and supporting them is what makes our Mid-Columbia region's economy strong. Many times you can actually meet those farmers from our community and strike up a conversation to learn more about their farms.
Here is the schedule for the three Farmer's Markets in the Tri-Cities:
Pasco Farmers' Market:  Opened May 1 and runs through October 30th, open Wednesdays and Saturdays from 8 am until 12 noon. It is located at the corner of South 4th Avenue and West Columbia in downtown Pasco. For information call (509) 545-0738 or visit their websites at: www.pascofarmersmarket.org.  Pasco has the longest established farmers' market in the area and has been in operation for over 30 years. There is "Music at the Market" with live music and entertainment on Saturday mornings.
Southridge Farmers' Market in Kennewick: Open June 3rd until October 21st, open Thursdays from 4:00 pm to 8:00 pm. It has moved from downtown Kennewick to Southridge Village this year, at the corner of Highway 395 and Hildebrand Way. For more information call (509) 585-2301. Most of the usual vendors and some new ones are looking forward to their "new digs' at Southridge!
Market at the Parkway in Richland: Open June 4th through October 22nd, open on Fridays from 9 am until 1:00 pm. Located On the Parkway, between Jadwin and George Washington Way. For more information call (509) 967-2587 to speak with Tara or John.  More than 60 vendors are expected. The street is closed which creates a more pedestrian friendly location for shoppers, music is provided from 10:00 am until noon, and some Parkway businesses bring their wares out onto the sidewalk to add to this fun shopping experience.
Please join the farmers, vendors and other shoppers to experience all the fun and freshness that abounds at the Tri-City local Farmers' Markets and help keep our economy strong!