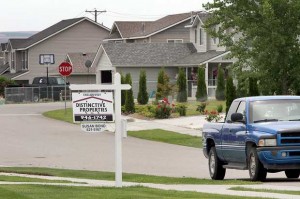 We are always looking for interesting and trending happenings within Real Estate and our local community in our Distinctive Properties blog.   We have been blogging lately about the low interest rates and how there has never been a better time to buy a home!  So imagine the treat I received when I saw the cover story in the Tri City Herald that read:  "Home Buying Picks up in the Tri-Cities" and the cover story picture…A Distinctive Properties Inc. sign reflecting the name of one of our top Agents, Realtor Susan Bond!
The story involved a gentleman by the name of Brant Truman who apparently was reading our blog recognizing he should buy before these historically low rates start rising again!
Well, he isn't the only one!  A local chain Real Estate agency reported its best May for listings in its history and according the National Association of Realtors, residential home sales are up (10%) this past month then they were the same month in 2011 and the National median sale price increased the same month compared with the same month last year.   With mortgage rates at a historic low and the competition among home sellers making prices more competitive, again……there has never been a better time to buy!
Truman did suggest interested buyers start with finding a good real estate agent. Give us a call today!  We provide "Distinctive Service for Distinctive Clients!"