From finding an inspector to dealing with surprises — this is your guide to getting a house checked out.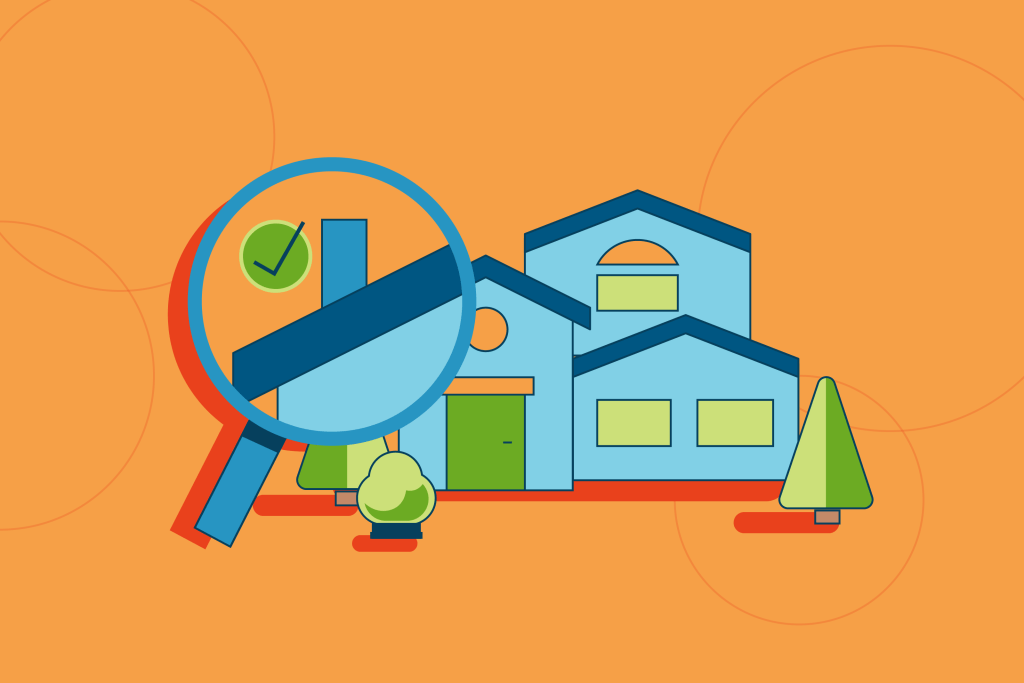 The first thing you need to know about a home inspection: You'll feel all the feels.
There's the excitement — the inspection could be the longest time you're in the house, after the showing.
Right behind that comes … anxiety. What if the inspector finds something wrong? So wrong you can't buy the house?
Then there's impatience. Seriously, is this whole home buying process over yet?
Not yet. But you're close. So take a deep breath. Because here's the most important thing to know about home inspection: It's just too good for you, as a buyer, to skip. Here's why.
A Home Inspector Is Your Protector
An inspector helps you make sure a house isn't hiding anything before you commit for the long haul. (Think about it this way: You wouldn't even get coffee with a stranger without checking out their history.)
A home inspector identifies any reasonably discoverable problems with the house (a leaky roof, faulty plumbing, etc.). Hiring an inspector is you doing your due diligence. To find a good one (more on how to do that soon), it helps to understand what's involved in the typical home inspection.
Most Popular in Buy a Home: Step-by-StepReviews of Seller's Property Disclosures
Before an inspection, the home inspector will review the seller's property disclosure statement. (Each state has its own requirements for what sellers must disclose on these forms; some have stronger requirements than others.) The statement lists any flaws the seller is aware of that could negatively affect the home's value.
The disclosure comes in the form of an outline, covering such issues as:
Mold
Pest infestation
Roof leaks
Foundation damage
Other problems, depending on what your state mandates.
During the inspection, an inspector has three tasks:
Identify problems with the house that they can see
Suggest fixes
Prepare a written report, usually with photos, noting observed defects
This report is critical to you and your agent. It's what you'll use to request repairs from the seller. (We'll get into how you'll do that in a minute, too.)
What Home Inspector Won't Check
Generally, inspectors examine houses for only problems that can be seen with the naked eye. They won't tear down walls or use X-ray vision to find hidden faults.
Inspectors also won't put themselves in danger. If a roof is too high or steep, for example, they won't climb up to check for missing or damaged shingles. Instead, they'll use binoculars to examine it.
They can't predict the future, either. While an inspector can give you a rough idea of how many more years that roof will hold up, they can't tell you exactly when it will need to be replaced.
Finally, home inspectors are often generalists. A basic inspection doesn't routinely include a thorough evaluation of:
Swimming pools
Wells
Septic systems
Structural engineering work
The ground beneath a home
Fireplaces and chimneys
When it comes to wood-burning fireplaces, for instance, most inspectors will open and close dampers to make sure they're working, check chimneys for obstructions like bird nests, and note if they believe there's reason to pursue a more thorough safety inspection.
If you're concerned about the safety of a fireplace, you can hire a certified chimney inspector for about $300 to $600 per chimney; find one through the Chimney Safety Institute of America.
"Visit HouseLogic.com for more articles like this.  Reprinted from HouseLogic.com with permission of the NATIONAL ASSOCIATION OF REALTORS®."