Peace of mind begins with changing the locks.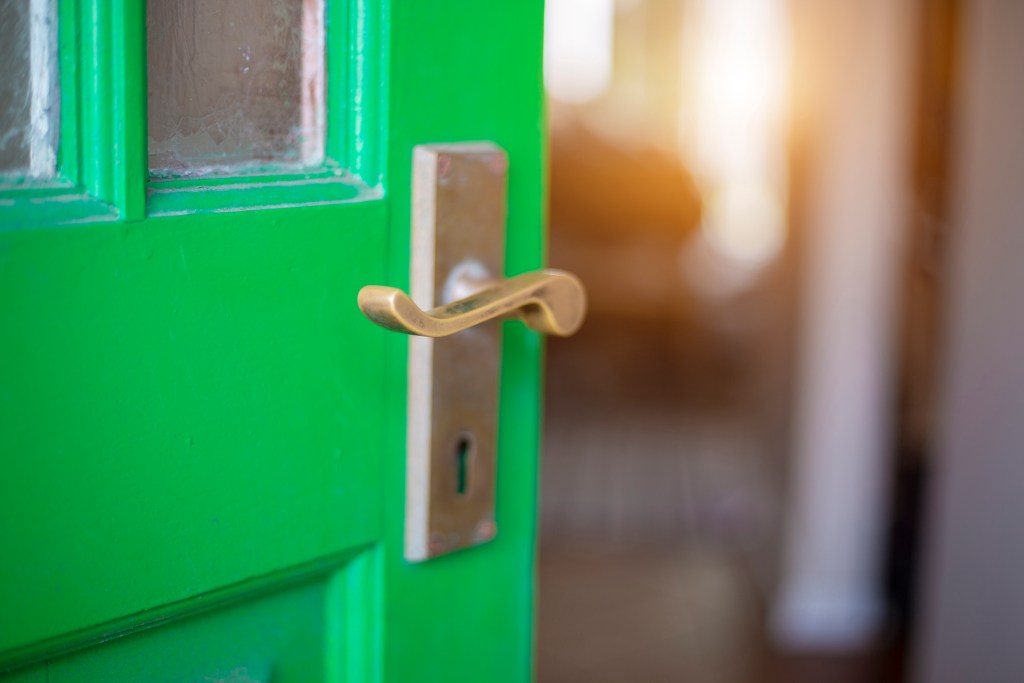 It's easy to get super excited about moving into your new house. But for your own safety and security, be sure to cross these tasks off your checklist before you call the house home (and buy these new home essentials).
6 Things to Do When Moving Into Your New Home
Tip #1 Change the Locks
You really don't know who else has keys to your home, so change the locks. That ensures you're the only person who has access. Install new deadbolts yourself for as little as $11 per lock or call a locksmith. If you supply the new locks, locksmiths typically charge $50 to $100 per lock for labor. The full installation cost will vary depending on the type of lock you choose.https://www.youtube.com/embed/uBff27QR5nM?feature=oembed&enablejsapi=1HouseLogic
Your home inspector should do this for you before closing, but it never hurts to double-check.
Keep an eye out for dripping faucets and running toilets, and check your water heater for signs of a leak.
Here's a neat trick: Check your water meter at the beginning and end of a two-hour window in which no water is being used in your house. If the reading is different, you have a leak.https://www.youtube.com/embed/4Qmg1EQQ_8g?feature=oembed&enablejsapi=1ihihomeinspections-HomeInspectorAtlantaGA
Do this before you move your furniture in, and your new home life will be off to a fresh start. You can pay a professional carpet cleaning service. They'll measure the length of the carpet before giving you an estimate. If the square footage falls below their minimum, they'll likely charge a flat fee of $100 to $150.
You can rent steam cleaners to use yourself for $35 to $50. You'll probably also need to buy detergent for stubborn stains, costing $15 to $25.https://www.youtube.com/embed/K4lrYMgJGbs?feature=oembed&enablejsapi=1HouseLogic
This is another no-brainer before you move in your dishes and bathroom supplies, especially if the house has been vacant. It's not uncommon for mice and other pests to move in quickly. Make sure to wipe inside and out, preferably with a nontoxic cleaner, and replace contact paper if necessary.
And if you do find traces of unwanted roommates, take the next step.
Tip #5 Invest in Pest Control
That includes mice, rats, bats, termites, roaches, and any other uninvited guests. There are any number of DIY ways to get rid of pests, but if you need to bring in the big guns, an initial visit from a pest removal service will run you $150 to $300. After that, monthly visits will cost about $40 to $70 per visit, or quarterly visits, $100 to $300 each time.https://www.youtube.com/embed/e9iED8FCkEk?feature=oembed&enablejsapi=1ehowgarden
It's easier to do with two people: one to stand in the room where the power is supposed to go off and the other to trip the breakers or fuses and yell, "Did that work? How about now?"https://www.youtube.com/embed/zDkLUn4fOo8?feature=oembed&enablejsapi=1applianceassistant
You'll want to know how to turn off your main water valve if you have a plumbing emergency, if a hurricane or tornado is headed your way, or if you're going out of town. Just locate the valve — it could be inside or outside your house — and turn the knob until it's off. Test it by turning on any faucet in the house; no water should come out.https://www.youtube.com/embed/NFNbTIzjh-s?feature=oembed&enablejsapi=1ExpertVillage Leaf Group
Visit HouseLogic.com for more articles like this.  Reprinted from HouseLogic.com with permission of the NATIONAL ASSOCIATION OF REALTORS®."