Yards are meant for fun times — not chores.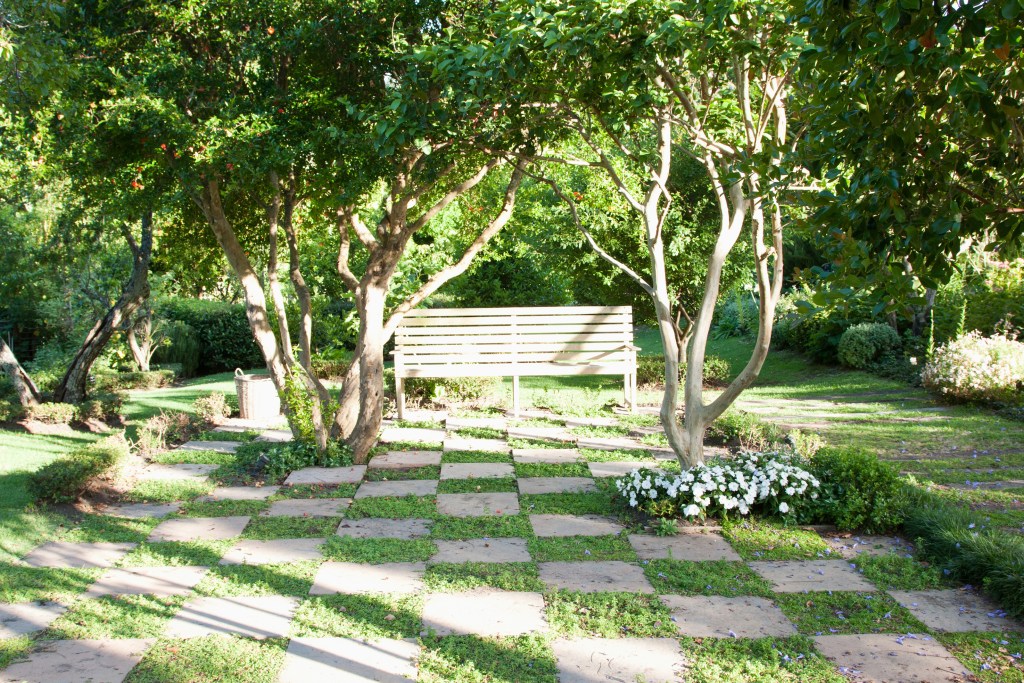 The point of having your own yard is to enjoy it, not be a slave to it. These easy landscaping ideas will give you more time for outdoor leisure instead of mowing and weeding.
#1 Use Rocks for Interesting Landscape Features
You can even lay out stones to be ornamental dry creek beds.
Small yards, especially in desert climates, can be completely rocked over, or you can use them as strategically placed accents.
And if you've got spots that are constantly wet, rocks are great for keeping mud (and mosquitoes!) under control because they'll help the water run off instead of collecting.
#2 Add a Rain Garden if You've Got a Soggy Spot
They make much prettier focal points than soggy grass, too.
Rain gardens are fairly easy to create, using gravel, sand, and native plants. The idea is to slow down rainwater so that less of it goes into the sewer system and more is used to nourish plant life.
#3 DIY the Easiest Deck Ever
"There are lots of dense hardwoods like ipe and cedar, redwood, and composites that last a long time and are very low-maintenance," says Tomi Landis, principal landscape designer at Everett Conroy Landis Garden Design in Chevy Chase, Md.
While you're dreaming of your new deck, think about this: How you will use it?
No Deck?
Adding one would be wise. Most decks recoup 80% of the cost when you sell.Read More InThe ROI of Your Cost to Build a Deck
"Will you be using it in the morning while having coffee?" Landis asks. "If so, it should be oriented to the east. If it's mainly for dining out in the evening and having cocktails, it should be facing west." But be sure shade is available in the hotter months.
#4 Switch to Tall Grass That Never Needs Mowing
"Native grasses are a great solution to a lot of landscaping problems," Landis says. They soak up lots of water and provide an organic privacy screen while trimming your mowing time.
How to use tall grasses in your landscaping:
Group along a fence line.
Group into geometric patterns in your yard for a clean look.
Go more random for a more natural look.
The most maintenance you'll do with these is cut them back in late fall. They dry up in the fall, which sends some of those glorious long leaves flying across your yard. But they can be used as (free!) mulch or ignored. They'll do no harm.
#5 Create Pathways to Reduce High-Maintenance Grass
"A stepper in a natural shape looks really great in a lot of contexts," Landis says. Traditional house styles like bungalows, colonials, and Victorians tend to go well with more natural pavers, like flagstone.
If your house is more on the modern side, opt for some rectangular or square pavers.
#6 Go For Fake Grass — No One Will Know (Seriously)
Some purists might consider fake grass to be over the line, but the newer faux turf doesn't make your yard look like a putt-putt course, nor does it get so hot it burns your feet like the fake turf in your parents' day.
"It's great for somebody with no time on their hands," says Doug DeLuca, founder of Federal Stone and Brick in Sterling, Va. "It comes like a roll of carpet, you set a bed for it with gravel, then use sod staples to hold it down."
It doesn't need to be cut, watered or fertilized, and pets can't kill it.
#7 Plant Your Own Mini Forest if You Get Lots of Rain
"Trees can soak up a lot of rainwater," Landis says, and therefore, need a lot of water. Consider your local climate, as soaking up water can be good or bad. Do you need to sop up excess water? Is the yard already too dry?
Keep in mind that native trees are less maintenance because they're adapted to your area.
#8 Use Objects to Add Color — Instead of Flowers
It means choosing bright pots, benches, bird baths, Adirondack chairs — anything that just sits there and looks lovely while you pour the cocktails.
The options are as numerous as the Pinterest search results for "yard art" (which is somewhere between 5,000 and infinity).
And if you decide to pop some colorful flowers into your colorful pots, what could be better a better backdrop to your finally realized cocktail party?
"Visit HouseLogic.com for more articles like this.  Reprinted from HouseLogic.com with permission of the NATIONAL ASSOCIATION OF REALTORS®."